As I wait for the foul year of 2017 to sunset, sink into history and fuck the fuck right off I listen to Buddy Guy's "Damn Right, I've Got the Blues" and that may be the song of 2017 for most of us with semi-caring hearts, intellects, sense of compassion and an appreciation of an outdated concept called "facts and logic". I was fortunate enough to see Buddy Guy live this year…now I see it as a foreshadowing to this last minutes countdown of the year. It was one of the greatest live shows I've ever experienced, at 80 the man is a machine, a force, a true original and the last of the pure greats. Most people that pass for musicians or singers/entertainers cannot enter the universe that Buddy Guy inhabits. Talent does not lie or require lip-synching or costume changes. I had the most wonderful partner for the show too. She held tears in her eyes at the raw talent and joy of witnessing Buddy Guy. She is beautiful, the show was beautiful and the blues is beautiful. It felt important and sure enough…three months down the river….I understand why.
Love has been up, down and difficult this year for sure and why shouldn't it be? The number one question on dating apps now are "Did you vote for Donald Trump?" or the strong weed-out statement of "If you voted for Donald Trump we are NOT compatible" and why not? Get that out of the way quick because if you did vote for the greedy vulture than it says a lot about your character and I doubt we would fall in love, apparently many others feel the same. The current political climate makes love very challenging, just as it can be challenging to be in a sustained good mood, especially for a political junkie such as myself. It has been just a bullshit political/governmental year from the get-go. Anyone who thought Trump would change for the better if we just gave him a chance, I hope you are making a resolution to not be so gullible in the new year. The pig changed alright…for the worse. It is painful to see the depths of their depravity sometimes. It is like they (Trump, his supporters and the politicians going along with him) have the singular aim of hurting/taking away from as many people as possible. If your bank account does not have nine zeros behind the first number or the bank manager doesn't know your name or you don't have a private jet…well you can get fucked but they will brand it as the "lower income assistance program".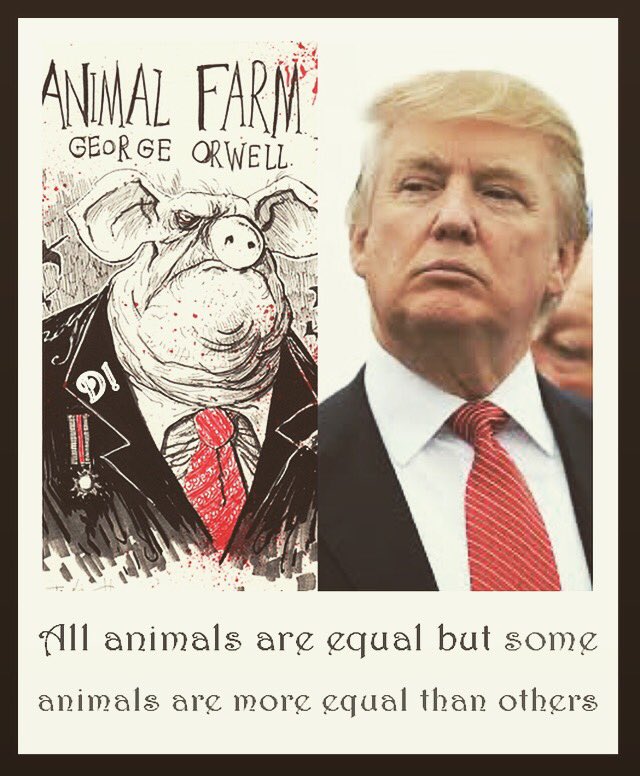 And people fall for this. I made the mistake of getting into a drunken argument with two Trump supporters the other evening, normally I can engage in an intellectual fist-a-cuffs with anyone of any class or caliber, however, the strong drink and time of evening had me tied on the ropes before I opened my mouth because nothing worked except to resort to name calling and hoping that Trump hires their wives or daughters to work in close proximity to the swine then see how much they love him when the women in their lives are on the receiving end of what that pig deems as his due because he is a reality star. I was left feeling broken and dumb. Facts, logic or reason do NOT work with his supporters because they do NOT believe ANYTHING other than what he tells them no matter if video evidence or written evidence or Trump himself whispers it in one ear and denies it in the other. He supports neo-nazis…he denigrates our own intelligence agencies in support of Russia….he fully supported a highly probable child molester…No problem, not true. They will follow even against their own family, friends, profession or best self-interests.
This is what our country faces now…permission to be cruel and hateful…the permission to deny reality…the permission to be dumb…the permission to be gullible….the permission to have rights taken away…the permission to be cheated and then to be thankful for it. What is happening in our country right now mostly benefits only the rich and corrupt yet coal miners, construction workers, good human beings believe they too will be lifted by the grace of his greedy, greasy, tiny hand and become the 1%. Baby, there is only so much room in that club and it has reached capacity so too bad…so long suckers.
But we were talking about love weren't we? Yes, indeed we were…you see how Trump fucks even this up? Love can be difficult, that's true but it can be easy too I suppose, at least it seems that way. But oh well…what can a poor boy do? Except to sing in a rock n roll band. Or perhaps open more cans of beer, order a pepperoni pizza, buy yourself some sunflowers, and brave the cold loneliness and shout at the midnight Fleur-de-lis and fireworks. I can't conjure anyone in these final hours of the year so…all I can say is we will see what happens in 2018 on the love front. Buzzfeed quizzes all say it will be my year…they also said I am a 14 year old girl who should live in Switzerland, will eventually have four daughters and if I was a drink, I'd be an iced chai with a shot of rum. So who am I to judge? The sun will rise again…and the weather will warm…new elections are coming…someone may want to fall in love with me again and they might buy me sunflowers.
Pour a glass of dumb optimism and pass out head first into the new year. Good things are bound to happen. Well, that's the message I'm sticking with in this End of the Year screed for you. That's what I would like to portray. Enough with the negative, that is unfortunately too simple to find these days. Onward into 2018, like a pie to the face…that can be funny and fun no?
Look for beauty. Have fun. Get weird on occasion when the moon is only full in your heart. Be fierce. Be a 14 year old buzzfeed girl. Be a voter. Be kind and considerate. Be a lover. Listen to the blues and smile. These are some sincere lessons to practice in 2018. See what happens if we can just get some of them in. There were some wonderful and weird times in the past year and I found myself reunited with some and drifting away from others. And so it goes. Maybe, just maybe by following some of the statements above things will be a bit different. I like to think things and circumstances can change.
So, in summation…Don't shy away from weirdness….stay angry…stay involved….the United States is not normal right now…let's not pretend it is. Fuck those people. Be creative…be open…let's see what we can make happen….let's just see what happens…but for now I need to open another coldie because even though the year isn't ending great hey…who knows how it may begin 108 minutes from now.
Damn Right, I've Got the Blues….thanks Buddy.
C. Drake, New Years blues baby